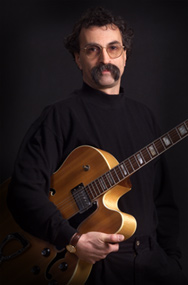 Professor Richard Falco joined the music faculty of Worcester Polytechnic Institute in 1979 where he currently holds the full time position of Director of Jazz Studies. He has also served for a number of years on the jazz faculty of Clark University where he re-established their jazz program.
Ensembles under Professor Falco's direction have performed in France, Belgium, Luxembourg, Russia, Romania, the Czech Republic, Austria, Egypt, Spain, Greece, Canada, Italy, Poland and the United States. He was interviewed by "A Tout Jazz" for National Public Radio of France regarding the state of jazz education in America, and has been invited to lecture and perform at several music schools while touring abroad.
He was the co-founder and Artistic Director of the Jazz Worcester Music Festival and a past president of the Jazz Worcester Society. A member of the College of Voters for the New England Jazz Alliance (NEJA), he has presented his work in the area of jazz historical preservation for NEJA at the Hartford International Jazz...