Ermal Toto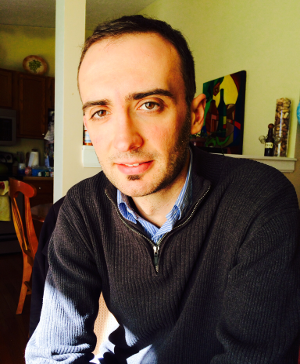 I am a PhD student in the Computer Science department of WPI. My advisor is Prof. Elke A. Rundensteiner
PhD Timeline
Spring 2016 (Funded RA):

Completed Research Qualifier.
Completed 9cr of directed Research.
Published work related to Research Qualifier in ECML/PKDD 2016

Fall 2015 (Funded RA):

Started as a Full Time PhD Student, funded by MITLL.
Completed Bin Requirements.
Completed 1 3cr Course and 6cr of directed research.

2008-2015 (Self Funded):

Part time PhD student. Completed most course credit requirements (28.5cr beyond MS Degree).

2007-2008 (Self Funded):
Current Credits: MS in CS + 49.5Cr (79.5cr Total). GPA: 3.75
Research Interests
I attend the DSRG research group and my research interests are in Data-mining, Machine Learning, and the utilization of the prior in the context of transportion networks.
---
Publications
Ermal Toto,Elke A. Rundensteiner,Yanhua Li,Richard Jordan,Mariya Ishutkina,Kajal Claypool, & Jun Luo,Fan Zhang. PULSE: A Real Time System for Crowd Flow Prediction at Metropolitan Subway Stations. ECML/PKDD 2016 (IN PRESS).
Gobert, Janice D., and Ermal Toto. Instruction System with Eyetracking-based Adaptive Scaffolding. WORCESTER POLYTECHNIC INSTITUTE, assignee. Patent 9,230,221. 5 Jan. 2016.
Gobert, J. D., Toto, E., Brigham, M., & Sao Pedro, M. (2013, January). Searching for Predictors of Learning Outcomes in Non Abstract Eye Movement Logs. In Artificial Intelligence in Education (pp. 799-802). Springer Berlin Heidelberg.
Gobert, J. D., Sao Pedro, M. A., Baker, R. S., Toto, E., & Montalvo, O. (2012). Leveraging educational data mining for real-time performance assessment of scientific inquiry skills within microworlds. JEDM-Journal of Educational Data Mining, 4(1), 111-143.
Gobert, J. D., Montalvo, O., Toto, E., Sao Pedro, M., & d Baker, R. S. (2010, January). The science assistments project: scaffolding scientific inquiry skills. In Intelligent Tutoring Systems (pp. 445-445). Springer Berlin Heidelberg.
---
Professional Experience
Sr. Software Engineer Worcester Polytechnic Institute July 2009 - September 2015
Network Administrator Worcester Public Schools August 2005-July 2009
Technology Coordinator Central Massachusetts Special Education Collaborative March 2003-August 2005
---
Additional Information
Awards: Grad Day 2016 - 1st Place
Awards: Grad Day 2010 - 1st Place
Languages: English (Fluent), Spanish (Fluent), Albanian (Fluent), Italian (Read and Understand, Limited Fluency)
Contact Information