Bringing Water to Guatemala
This May the Engineers Without Borders-USA WPI team will be returning to Guachtuq, Guatemala to implement 22 rainwater harvesting (RWH) systems in addition to the 12 systems that have previously been implemented in the community. By the completion of this trip, the community of Guachtuq will no longer need to depend on the finca, a contaminated water basin fed by a distant spring, as their main source of drinking water. Guachtuq is home to approximately 220 indigenous Mayan people who struggle with water security and live on less than $2 per day. Over the past few years, EWB-USA WPI has been working with the community of Guachtuq to improve their water security by increasing the quality, quantity and access to potable water. This project improves the lives of the people of Guachtuq by reducing the amount of time the women and children spend collecting and carrying water. The systems provide a higher quality of water and have been seen to reduce socio-political tensions that result from a communal water source, such as the finca.
The EWB-USA WPI team members will guide the construction of individually designed RWH systems that are engineered to meet the needs of each family. Community members will be working together with the EWB-USA WPI team to implement the 22 RWH systems in Guachtuq. Community members have been an active partner with EWB USA-WPI in developing, innovating, and maintaining the RWH systems. Additionally, while in Guachtuq, the team will perform water quality tests on the existing systems to monitor the cleanliness of the water the tanks deliver to community members in comparison to the finca. Following the implementation of each system, the team will have learning sessions with the families to ensure that they understand how to operate, maintain, and clean the systems appropriately. This trip will complete the implementation phase of the EWB-USA WPI Guachtuq project, bringing water security to all members of the community.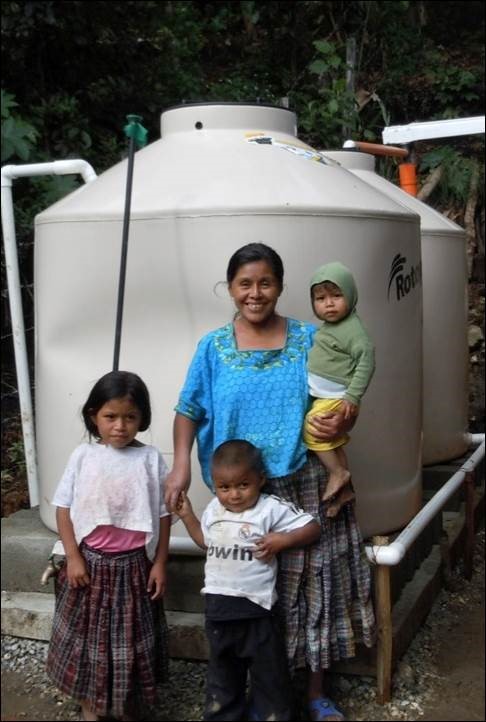 Filomena and her kids next to a system.